When initially designing a short-term study abroad program, the logistics and operations planning can seem overwhelming. Working with a major travel agency might seem like a good option to streamline plans and find affordable travel solutions, but there is a better choice.
Working with a tour operator that specializes in study abroad programs is the ideal choice for your faculty-led or short-term study abroad program. We have identified the four reasons why you should consider an experienced tour operator instead of a traditional travel agency for your program support.
Boutique vs. Commercial
Don't be discouraged. "Boutique" doesn't mean more expensive, it means a smaller and more focused partnership and program design, where your educational programs are the main priority and area of expertise for the company. The benefits include an experienced staff with knowledge on itineraries, cultural excursions, and best practices for planning your unique program. With years of experience in student and educational travel, a educational tour operator will be able to tailor your program to the specific needs.
On the other hand, a commercial travel agency will have a majority of customers being vacation groups. While discounts on travel and accommodation might be advertised, the focus on student appropriate choices and scholastic integration is not their expertise or priority.
Safety
The safety of students is of the utmost importance for all study abroad programs. First and foremost a tour operator will have insurance built into the program so all parties are secure and protected in the occurrence of risk management scenarios. A tour operator will also have round the clock staff ready to advise over any potential problem who have been briefed and trained on similar study abroad programs. Additionally, your faculty and students will have direct contact to risk management personnel that have been included on every step of the safety planning for the program.
A travel agency might only be a part of the planning stage, booking transportation, activities or accommodation and nothing further. Sometimes they will include an emergency help-line, but most of the responsibility will fall onto the leading faculty member's shoulders.
Education
A short-term study abroad program is developed with the purpose of enriching students' educational experience; a tour operator which works with student groups and short-term programs understands this as the main priority. Tour operator teams work in step with professors and administrators to design and operate the perfect itinerary to execute the program to fit the curriculum. With years of experience running study abroad programs, a tour operator has the experience to answer all questions including:
"How many destinations will fit in a certain time period without getting drained by long travel times?"
"Some of my lectures might need a classroom environment with a projector, where can I find one?"
"I have designed a detailed program proposal, but I am not sure we have the budget for it. Where do I go from here?"
A travel agency might have recommendations for non-educational or cultural excursions, or museum discounts, these items don't add value to the program for students. A tour operator knows the destinations and cultural activities where students will have a meaningful abroad experience and can also recommend off the beaten path destinations and experiences that will save money and increase program value.
Budget
Budgeting is the backbone of planning a short-term study abroad program. Saving money for the university and keeping costs down for students ensures the vitality of a program and gives more students the opportunity to experience studying abroad. While travel agencies can save money by offering group plans for travel and accommodation, it is usually done in bulk ordering with little regard to the program plan. In most cases, after working with one travel agency a program will switch to a different agency each year.
Finding a tour operator that will work with your program from the start to create an ideal program that will continue without any additional work every year. Many tour operators have existing partnerships in these destinations and will be able to offer similar or better rates than many agencies will offer. The right partner for your organization will be cognizant of budgetary needs and will carve out areas to save money in a precise and methodical way, without diminishing the overall experience.
If you are interested in finding a tour operator for any stage of short-term study abroad program planning, contact 4.0 Tours and we will help you with all the resources necessary to plan your ideal program.
Program Development
Road Map To Your Faculty-Led Program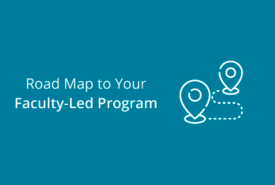 Planning your faculty-led study abroad program and don't know where to start? As experienced tour providers, we've laid out your first three, simple steps that you need to begin thinking about for your program. Download our Road Map to Your Faculty-Led Program to get started today.