Building a short-term study abroad program that includes a variety of activities that complement the program focus and curriculum can be a challenge. To develop a program that is well-rounded and provides an impactful experience for students, you will need a mix of included activities.
Take notes because we're sharing seven short-term study abroad activities that you must include in your next program.
1) Business Site Visits
Provide your students with the opportunity to experience their field of study in a different country and culture with a visit to local businesses. This experience not only allows students to gain an understanding of their studies in action but also provides them the chance to make international connections they can take with them for the future.
2) Tours of Local Universities
To gain a greater perspective on education in other countries, organize a visit and tour of a local university. Most universities are willing to provide tours for student groups and provide a short presentation on their methodology and system that is unique to their organization.
3) Conferences & Expos
Regardless of the focus of your program, there is most likely an international conference or expo dedicated to that specific field of study. Try to find a relevant conference and determine if it's possible to plan your program around those dates.
For example, is your program focused around Public Health? Attend to International Conference on Public Health 2020 in May to connect students with professionals in the international field.
4) Food Experiences
One of the best ways to experience a new culture is through their food and beverage traditions. Whether you want to include a traditional meal, cooking class or wine tasting, an included food experience is a must for any study abroad program.
5) Day Trips
Typically a short-term study abroad program will visit a few cities throughout the duration of the trip. If your program is going to be based in one city for the majority of the time, an easy way to visit additional destinations without the hassle of changing accommodations is by including day trips.
6) Guided Exhibits
In our opinion, a museum visit isn't maximized without a guided tour! Let the experts walk you and your students through the museum to provide the best experience for learning outside the classroom. You can also find licensed tour guides who may be related to your program focus who can custom build their tour to highlight the parts of the museum and exhibits that relate to your specific program.
7) Free Time
One of the most overlooked parts of the short-term study abroad program is building in free time for students. An overpacked itinerary will result in burnt-out students. Build-in free time for participants to explore the city on their own and create unique experiences that will have them attentive and eager to learn during the educational portions of the program.
If you want to learn more about how 4.0 Tours can include these activities and more into your short-term study abroad program, contact us today.
Program Development
Road Map To Your Faculty-Led Program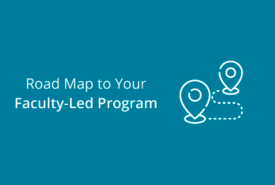 Planning your faculty-led study abroad program and don't know where to start? As experienced tour providers, we've laid out your first three, simple steps that you need to begin thinking about for your program. Download our Road Map to Your Faculty-Led Program to get started today.