Summer in Europe means hot temperatures, which can make your summer study abroad programs more challenging to keep your students cool and happy. As summer is the most popular time to short term study abroad, it is up to universities and program providers to ensure that the summer experience is enjoyable through the hot temperatures.
After many years of operating programs in the scorching hot summer weather, we're sharing our tips on keeping your summer study abroad program "cool."
1. Travel in May and June
The weather in Europe typically starts that to warm up in April and May and doesn't reaches peak temperatures until July and August. This makes programs planned for earlier in the summer months a better option for your study abroad program. Not only will the temperature be more moderate, but also there will be less tourists as Europeans normally take their summer vacations in August. Beat the heat and the crowds by planning for a Maymester or June program.
2. Head North
Depending on the focus area of your study abroad program, consider destinations in Northern Europe, where the heat is less intense than the South. Check out Scandinavian countries such as Sweden or Norway where the average July temperature is a pleasant 64 degrees Fahrenheit. The UK also offers a cooler climate with average temperatures around 70 degrees Fahrenheit.
3. Stay Close to The Coast
If your program destinations happen to be located in the warmer parts of Europe during the summer months, try to build in some visits to the coast. What better way to cool off during the summer than a trip to the beach? Coastal regions typically experience less extreme seasonal temperatures due to the presence of the large bodies of water and the oceanic currents. Which means that coastal towns will stay cooler during periods of extreme heat. This results in a more enjoyable experience for you and your students.
---
Let us help plan your next summer program to ensure a cool and easy experience for your organization and student participants. Contact us today.
Program Development
7 Best Questions To Ask When Choosing a Tour Provider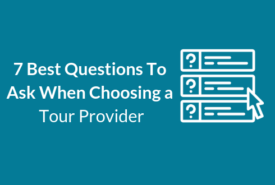 If you've decided to start planning your study abroad program and search for a tour provider but don't know the questions to ask potential providers, we've got you covered. Based on 15 years of experience, we have compiled our list of the 7 best and most necessary questions to ask during your process of selecting a tour provider for your program.