At the beginning of the development process for new faculty-led programs, it can feel like there is a mile-long to-do list. If you're starting the process for the first or the tenth time, we have the experience and professional expertise to assist you through the process.
After 16 years in the study abroad industry, we've learned all the lessons on developing incredible short-term and faculty-led programs across Europe and North Africa. These three tips for developing your faculty-led program can be easily implemented will make the process easier for everyone involved.
1) Start Planning Now
If you're considering a new faculty-led program, start the planning process today. The earlier you can begin the planning and approval process the smoother the process will be for you and your program.
Typical timelines for new study abroad program development can vary in length from as little as eight or nine months up to 18 months or longer from the initial planning stages through the completion of the program.
The first step in developing your program would be getting in touch with the relevant office at your university or college who handles the development of faculty-led and short-term study abroad programs. You will need to identify the key approval dates and build your development timeline around those in order to get your program up and running.
2) Include Unique Destinations
We love all of the most popular destinations in Europe, but we want to spread the love to those destinations which you don't hear about as often as Rome, Paris or London. In addition to these infamous cities add one or more up-and-coming destinations such as Iceland for your short-term program. By offering a program to unique destinations it is sure to stick out amongst the other program options for students.
If you need assistance and want to discover where your course content could take you in Europe or North Africa, contact us and we can schedule an exploration call with no strings attached.
3) Balance of Inclusions, Experience, and Cost
One of the many benefits of short-term study abroad is the cost benefits compared to long-term programs. When developing your faculty-led program its imperative to be always thinking about the intricate balance of included activities, overall student experience, and cost.
If you want to learn more about keeping your program on budget, check out 3 Quick Ways to Keep Short-Term Study Abroad on Budget.
Top Tips:
Don't overbook your program itinerary – include free time for students to explore and decompress.
Inclusions are a great way to allow students to pay up-front and only be required to pay for certain meals and activities while on the program, but they can quickly drive up the program cost.
Upgrade your program so it will sell itself when it comes to student recruitment.
Program Development
Road Map To Your Faculty-Led Program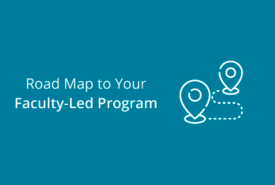 Planning your faculty-led study abroad program and don't know where to start? As experienced tour providers, we've laid out your first three, simple steps that you need to begin thinking about for your program. Download our Road Map to Your Faculty-Led Program to get started today.